Semaine 16 ?!? Déjà ?!? Où est passé la semaine 14?!?
Pas de promesse quant à une date pour le prochain article, ne sachant pas de quoi les prochains jours seront faits...!
Week 16?!? Already ?!? Where did week 14 go ?!?
No promesses as for the date of the next article, as I don't know what will happen in the next few days...!
Objets Finis/FOs
Il est officiellement terminé ! Quel ouvrage ! La manière de combiner les couleurs que propose Andrea Mowry est merveilleuse. Le rendu est magnifique. Environ 500g de moelleux autour du cou, parfait pour cette fin d'automne (si, si. On est d'ailleurs directement passés à l'été cette semaine).
It is officially finished! What a project! The way Andrea Mowry advises you to combine your colours is wonderful. This shawl is amazing. Around 500g of squishy softness around the neck, perfect for this ending Autumn (yes, yes. We have directly moved on to Summer this week by the way).
Pour l'effet "oversize", il faudra attendre un peu...
Fil utilisé : Brooklyn Tweed Shelter (coloris Newsprint).
J'ai beaucoup aimé tricoter cette laine. On y trouve ça et là des brins de paille, un rappel régulier du chemin parcouru depuis la bête jusqu'à mes doigts.
Elle gonfle beaucoup au lavage et est très agréable à porter.
I guees the "oversize" effect will have to wait a bit...
Yarn: Brooklyn Tweed Shelter (Newsprint colourway).
I really enjoyed knitting this yarn. Here and there, you encounter some small debris, a constant reminder of the fact that my knitting is just part of a bigger picture, starting in a field and ending between my fingers.
The yarn blooms after washing and is very pleasant to wear.
Ma 5eme paire de chaussettes pour le KAL Boxosox organisé par Voolenvine. Plus que 7, au moins...
Le modèle est ma recette personnelle : toe-up, talon après-coup, jersey, jersey, jersey, côtes 2x2 et rabattage tubulaire.
Fil : Rando de Plassard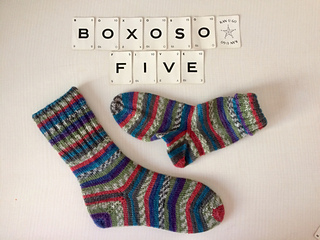 My 5th pair of socks for the Boxosox KAL hosted by Voolenvine. 7 to go, at least...
A personal recipe: toe-up, afterthought heel, stockinette, stockinette, stockinette, 2x2 ribbing and long tail tubular bind off.
Yarn: Rando by Plassard
Deux modèles de la collection Oh Boy!/Oh Girl! (
modèles Filentropie disponibles gratuitement sur Ravelry
).
Plus que quelques semaines (jours?) avant de les voir en action.
These Filentropie patterns, along with a third one (the Mitts!) are available for free on Ravelry.
Only a matter of weeks (days?) before they get into action.
Mon quatrième. Je ne m'en lasse toujours pas. Ce que j'aime particulièrement est le fait qu'il n'y a pas de boutons dans ce modèle. Que de la laine.
Fils : Dulcimer DK (rose) et Sweet Georgia DK (noir)
Modèle jacquard improvisé.
My fourth Jeune Pousse and I still can't get enough. What I particularly appreciate is the fact that there are no buttons, yarn only.
Yarn: Dulcimer DK (pink) et Sweet Georgia DK (black)
Improvised fair isle pattern.
Sur mes aiguilles/On my needles-WIPs
A ne pas prononcer à la française, sinon, ça fait bizarre. J'ai dû passer de la taille 3,25 préconisée à 4,5mm pour respecter l'échantillon.
Modèle :
Tegna, de Boylandknitworks
Fil : Filentropie Alpaga/lin/soie fingering
J'adore le tombé de ce fil et je me réjouis à l'idée de pouvoir le porter très bientôt :) Merci la mode Oversize !
I had to use 4.5mm needles instead of the prescribed 3.25mm to match gauge.
Pattern: Tegna, by Boylandknitworks
Yarn: Filentropie Alpaca/linen/silk
I love the fabric this yarn creates and I am happy to think I'll be able to wear it very soon :) OVERSIZE POWER!
Zweig, Boylandknitworks
Qu'y a t'il de mieux que tricoter un modèle de Boylandknitworks ? Tricoter DEUX modèles de Boylandknitworks !
Modèle :
Zweig, de Boylandknitworks
Fil : Filentropie Alpaga/lin/soie (noir) et Filentropie Mérinos Single (vert).
What's better than knitting a pattern by Boylandknitworks? Knitting TWO patterns by Boylandknitworks!
Pattern: Zweig, by Boylandknitworks
Yarn: Filentropie Alpaca/linen/silk (black) and Filentropie Merino Single (green).
Maternity Socks
Je viens de monter une pointe de chaussette (probablement des Vanilla Socks) pour avoir un projet simple et rapide à la maternité. J'ai glissé le sac à projet dans la valise. On est prêts !
I have just cast on a toe for a future Vanilla Sock, so as to have a simple and rapid project when at the maternity. I have packed it into my bag. We're ready!
Dans l'atelier/In the studio
Encore des Froufrous !
More Froufrous!
@Anaïs
@Luciole Caracole
@Knithekla
Podcasts
Yarngasm
, Episodes 266, 267
Skeindeer Knits
, Episodes 67 + Bonus
The Fruity Knitting Podcast
, Episodes 50 and 51
C'est probablement mon podcast préféré. Il faut arriver en rentrer dedans, mais Andrew et Andrea connaissent leur sujet. Les interviews sont excellentes et on voit dans leurs yeux que ces deux-là adorent ce qu'ils font. Tout comme les autres podcasteurs mentionnés ci-dessus, d'ailleurs.
This is probably my favourite knitting podcast. It is an acquired taste but these guys know what they are talking about, the interviews are always spot on and you can see in their eyes that they really enjoy what they are doing. Although this is also the case for all the other podcasters aformentioned
.
Les Petites Normandes
, Episode 4
En français !
In French!
Miscellanées/Miscellaneous
Notre seconde réunion pour préparer Tricotons la Ville au eu lieu la semaine dernière. Les choses prennent forme, le programme de la journée est arrêté, l'affiche presque terminée. Ça va être chouette ! Si vous êtes dans le coin de Brest, rejoignez-nous Place Wilson le samedi 9 juin, de 10h à 18h.
Last week, we had our second meeting to prepare Tricotons la Ville. Thigs are going well, the programme is done, the poster is nearly finished. It's going to be one heck of a day, I'm telling you!If you are in the area of Brest, come and join us at Place Wilson on Saturday 9 June, 10am to 6pm.